The Historic Preservation Association of Coral Gables hosted an elegant afternoon at the iconic Palm Beach national landmark of Mar-a-Lago.  Over 60 guests enjoyed the sold-out fundraising affair. Proceeds benefit historic resources and their preservation in Coral Gables and beyond. According to HPACG President Karelia Martinez Carbonell, "The Mar-a-Lago getaway was marvelous. I was personally awe stuck at the standards of stewardship the staff adhere to in order to protect and preserve a landmark that continues to make history."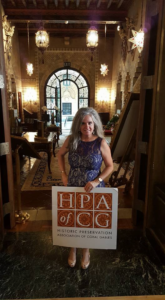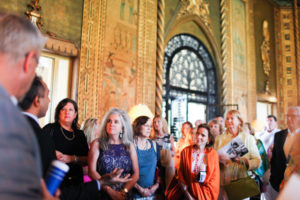 The event began with a full service, plated three-course lunch in the Teahouse that included poached pear salad, pan seared seabass and key lime for dessert.   During the coffee service, guest speaker Rick Gonzalez offered  a colorful presentation about the life and times of Mar-a-Lago citing that the almost 100-year old estate has had only two owners: Marjorie Merriweather Post [Founder] and Donald Trump [President of the United States].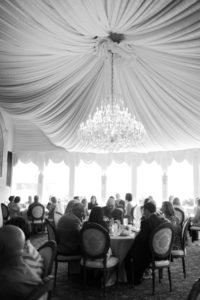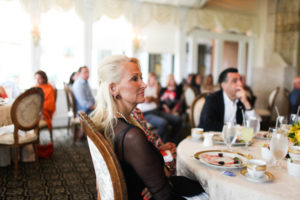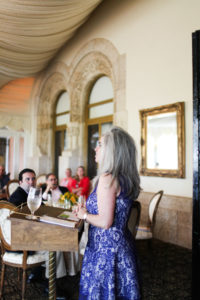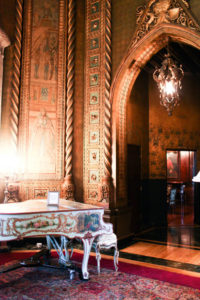 The lunch and key-note presentation was followed by a private tour of the estate led by Mar-a-Lago Event Director Kevern Anandlal along with Speaker Rick Gonzalez, who is the immediate past president of the Florida Trust for Historic Preservation and president of REG Architects. Rick is the official architect/preservationist of Mar-a-Lago since 1995. Guests were awarded with exclusive access to most of the property and its grounds as well as treated to the private tunnel that leads to the beach house and cabanas.  The experience was one-of-a-kind.  The day was grand for all who are champions of historic preservation.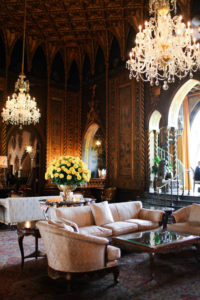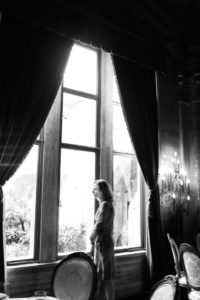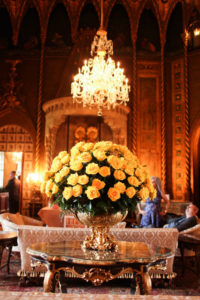 Mar-a-Lago is a National Historic Landmark in Palm Beach, Florida, built from 1924 to 1927 by heiress and socialite Marjorie Merriweather Post. Post envisioned the house as a future winter retreat for American presidents and foreign dignitaries, and following her death in 1973 it was bequeathed to the nation. However, successive presidents declined to use the mansion, which was returned to Post's estate in 1980 and in 1985 was purchased by Donald Trump, later 45th President of the United States. It seems Ms. Post's wishes have come true after all.
Since 1995, REG Architects has been the master planner and architect for the historic property. In 2012, Mar-a-Lago was voted the No.1 historic building in the state by the Florida chapter of the American Institute of Architects. Through the years, Gonzalez has worked on the property's spa, salon, tennis center, beach club, guest villas and ballroom. In 2012, Mar-a-Lago was voted the No.1 historic building in the state by the Florida chapter of the American Institute of Architects.
Rick Gonzalez observed, "It's been mind-blowing. Think about it, you're managing your firm with your dad for 30 years and then one of your clients becomes president of the United States. We can say we're the architects of the Winter White House."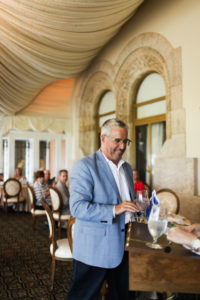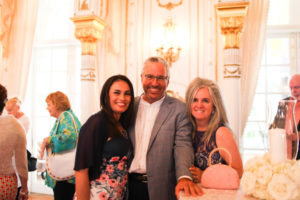 One guest commented, "What a wonderful experience and education… I have a special love of the architecture and history of Palm Beach. [It] is special to see a "working" piece of history."
Overall, the event's success is due in part to the support of our corporate sponsor Professional Bank.
Guests included members of the Villagers, members of the Miami Design Preservation League, Coral Gables Museum board member Alberto Menendez and spouse The Honorable Maria Santovenia.  Also, among HPACG members attending were President Karelia Martinez Carbonell and spouse Dr. Marino Carbonell, Board Secretary Mary Anne Danguillecourt and friend Maria Louisa Boord, Susanne Kayyali and friend Margaret Seroppian, Beau Genovese and Tom Cabelka, Pat Button,  Jane and Steve Maranos, Barbara Tellam Gilbert, David Mitchell and Sabine Scholz, and many others.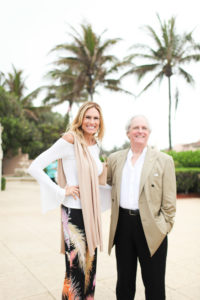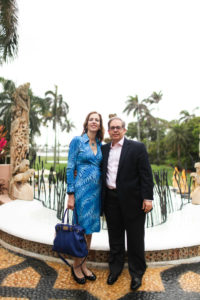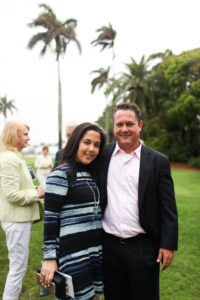 Special recognition goes to professional photographer Emma del Rey for capturing the beautiful images of the day.
###
Established in 1991, the Historic Preservation Association of Coral Gables (HPACG) is a 501c3 nonprofit whose mission is to promote the understanding and importance of historic resources and their preservation. For additional information or to become a member, please visit www.historiccoralgables.org. You can follow them on Facebook.      
Photo Gallery