By Karelia Martinez Carbonell, President Historic Preservation Association of Coral Gables
The Board of Directors of the Historic Preservation Association of Coral Gables sends its gratitude to all the residents of Coral Gables who recently came out to celebrate the dedication ceremony of the 1926 White Way Lights historical marker. Thank you for sharing this momentous occasion with us.
It has been many years in the making but no one could have planned on a better time in history…or better time for marking history then on the 90th anniversary of the "City Beautiful".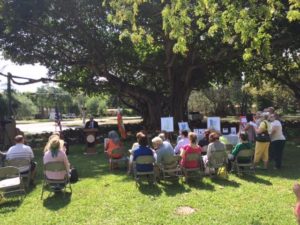 This ceremonious moment brought the community together to bask in not a single but a double celebration. For this year also marks the 90th anniversary of the commissioning of the 1926 decorative streetlights.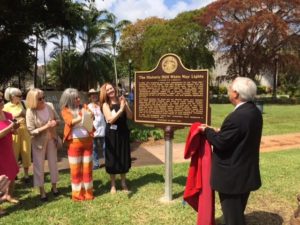 These streetlights are unique and one-of-a-kind. They were commissioned by Coral Gables Founder George Merrick in 1926 as part of the City's "White Way" streetlights project. In 1981, they were designated a local landmark. In 2016, their historical significance has been written into perpetuity.
THANK YOU to each individual who brought this project to the attention of City Officials in 2011…individuals such as the late Sarah Anderson [who did the original research for the lights' 1981 historic designation report], Connie and Tim Crowther, Ellen Uguccioni, and many others.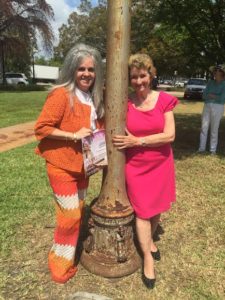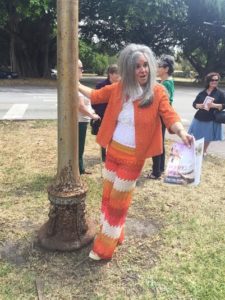 THANK YOU to our current City Officials including Mayor Cason, Vice Mayor Quesada, Commissioners, City Manager Cathy Swanson-Rivenbark, and Historic Resources Department staff Kara Kautz and Dona Spain for being great supporters and partners.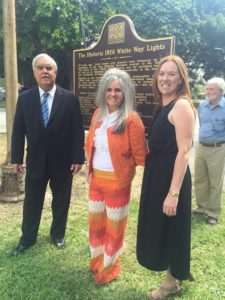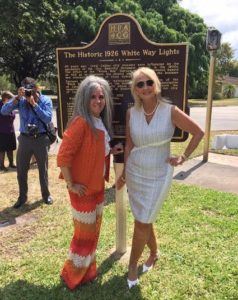 THANK YOU to past and current HPACG Board Members for bringing [and continuing to bring] attention to the condition and need for the restoration, maintenance, and preservation of the remaining 1926 White Way Lights.
THANK YOU to our members and friends who have been loyal supporters of HPACG throughout this endeavor.
Last year, the Board of Directors identified four- phases in the campaign to preserve and restore the 1926 White Way Lights…phase 2 has been accomplished today. The remaining phases are restoring/maintaining the 80 remaining originals; and recreating the original corridor of 500 streetlights with quality reproductions.
The work of historic preservation is continuous, but April 14th was a great day to celebrate a great accomplishment.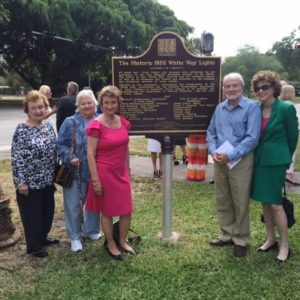 After the ceremony, residents continued to enjoy the festivities including enjoying lite sandwiches, refreshments, artist "en plein air" Claudia Bardasano, games, prizes, and shopping all to benefit HPACG.
And finally, THANK YOU to event underwriters Lisa Bennett, Mary Anne Danguillecourt, Dolly MacIntyre for their generosity.
###
The Historic Preservation Association of Coral Gables—a nonprofit whose mission is to promote the understanding and importance of historic resources—and the City of Coral Gables are partners in the maintenance, restoration, and preservation of the 1926 "White Way" streetlights.
Media
Coral Gables News May 10, 2016
Coral Gables TV — April 14, 2016
Enjoy the Photo Gallery!